Recent news
last updated 4/5/2021 8:03:58 AM
Can Thai Airways Survive
Thai Air - Part 1
In an article series by Baker Tilly we review the state of Thai airways, from their time of initial privatization all the way to the current bankruptcy and rehabilitation. While it is easy to blame covid-19 for Thai Airways latest woes, our report will chronical the history of Thai Airways and examines the issues that got them to this point and whether there is hope for the Airline. In the first article we look at their initial privatization and a comparison of their performance with Singapore airlines.
In 2015 Baker Tilly hosted the UNSW Business School for a Thai themed business case study. Each year this scheme continues with Baker Tilly selecting a different topic. The inaugural topic was ………of Thai Airways, and followed up in 2020 with "The Rehabilitation of Thai Airways
Part 1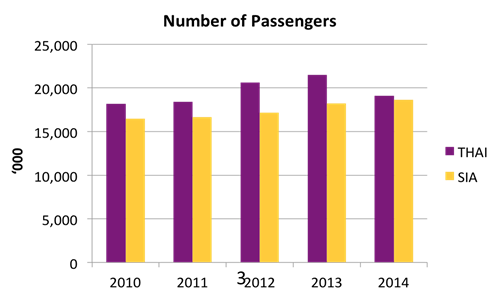 The UNSW 2015 report was tasked with examining the success or otherwise of the Thai Airways privatization.  Their assignment was to explore the current quassi-privatization of the airline, compared to a full privatization without government shareholding.  Thai Airways was listed on the Thai stock exchange in 1992, with government shareholding of 53.16%.
When revisiting the UNSW report it was clear from the first two charts that Thai Airways was performing badly when compared to its near neighbor, Singapore Airlines:
a.  Net Profit
Apart from 2010, Singapore Airlines had consistently outperformed Thai Airways, and had been profitable in every year.  Thai Airways had only been profitable in 2 or the 5 years under review: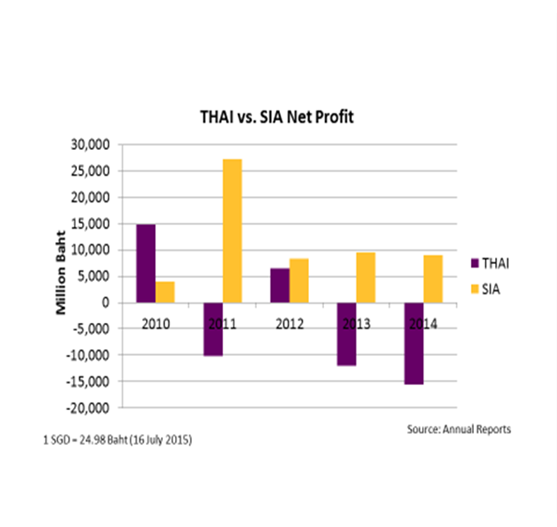 b.   Number of Passengers

The interesting aspect of the profitability chart above is the fact that Thai Airways carried more passengers than Singapore Airlines during that 5-year period: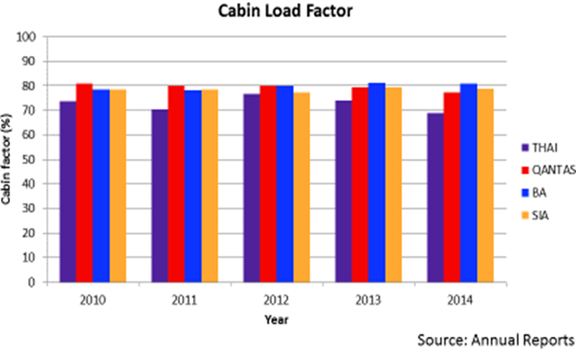 The final piece of the historical puzzle is the Cabin Load Factor ("CLF"). In the following chart the report looked at cabin loads compared to Singapore Airlines as well as Qantas and British Airways.  The latter two had already been fully privatized some years earlier:
In each year under review Thai airways achieved the lowest CLF of all the compared airlines.  It is also generally thought that a CLF target above 75% is required to achieve profitability.
In the next Part we will look at some of the issues that have impacted Thai Airways profitability.