Recent news
last updated 4/19/2021 10:54:23 AM
What went wrong for Thai Airways
Part 2 - Can Thai Airways Survive
In an article series by Baker Tilly we review the state of Thai airways, from their time of initial privatization all the way to the current bankruptcy and rehabilitation. While it is easy to blame covid-19 for Thai Airways latest woes, our report will chronicle the history of Thai Airways and examines the issues that got them to this point and whether there is hope for the Airline. In the second article we look at where there problems began.

Part 1 of the Thai Airways report can be viewed here
Part 2
In the earlier section the UNSW report was able to identify a number of key areas which confirmed Thai Airways was not meeting even the basics to generate a profit.  Before looking to address specific issues to improve profitability, it is worthwhile to highlight problems impacting Thai Airways and the industry in general:
Market Share
Competition has led to an expansion of the low-cost carriers (LCC) business model; the rapid growth of airlines in the Middle East; and a rise in joint ventures JVs) to increase international flights. Due to this competition, THAI's market share experienced a downward trend, decreasing from 36.7% in 2012 to 31.6% in 2014.
Technology
The airline industry has taken on much technological advancement in recent times, such as real time responses to customers and …….., however Thai Airways has struggled to keep up to date with these industry wide changes.
In addition, improvements within the airline industry with regards aircraft design and economies has seen a reduction in the value of Thailand as being an industry hub. Aircraft are now able to fly longer and direct thereby reducing the volume of traffic needing to stop-over in Thailand.  
Thai Specific Issues
There are a number of issues specifically impacting Thai Airways which should be mentioned.
The 2013-14 political crisis caused by the People's Democratic Reform Committee's (PDRC) anti-government protests. Thailand has experienced the least growth amongst the ASEAN 5, growing just 1%. It has caused investor confidence to diminish and tourism impacted, as evidenced by the economic contraction during the first half of 2014.
In 2015, the International Civil Aviation Organization (ICAO) red flagged Thailand on its website because the Thai Department of Civil Aviation (DCA) was "not providing sufficient safety oversight to ensure the effective implementation of applicable ICAO standards." This safety concern raised by ICAO caused China, Korea and Japan to place restrictions on new Thai flights (it should be noted that Thai Airways is still blocked from flying into the USA due to failure to satisfy safety concerns).
Rehabilitation of Thai Airways
The UNSW report then went on the consider a number of possible issues that might need to be adjusted or improved for Thai Airways to return to profitability:
Government Impact
Since Thai Airways is effectively a state-owned enterprise, the Company must follow strict government rules and regulations. There are two main regulators, the State Enterprise Policy Office and the government itself. In essence these rules encourage the use of 'middlemen' for procurement purposes. This in turn opens the door for opportunists, at the ultimate cost of Thai Airways. Should Thai Airways become a fully privatized company it could be argued that its procurement costs would significantly decrease.
Board of Directors
Thai Airways has 15 board members as of 2015. Its competitors have between 8-10 board members. This brings into question the boards efficiency and decision-making processes. In addition, the board consists of mainly government officials who have little or no airline experience.
Management
There is a consensus that Thai Airways has suffered from poor internal management, with the suggestion that recruitment and promotions are based on connections and who you know rather than merit or performance. Following on from this, the role of President has a 4-year tenure. Since listing in 1992 there has been 19 Presidents, meaning the average tenure has been 1.2 years.
High costs
The high costs of Thai Airways has led to its poor performance. These costs mostly relate to having too many types of aircraft; too many employees (25,000); the cost of employee income tax and having an inefficient procurement system. The airline will continue to struggle until they are able to lower these costs. This can be illustrated in the graph below: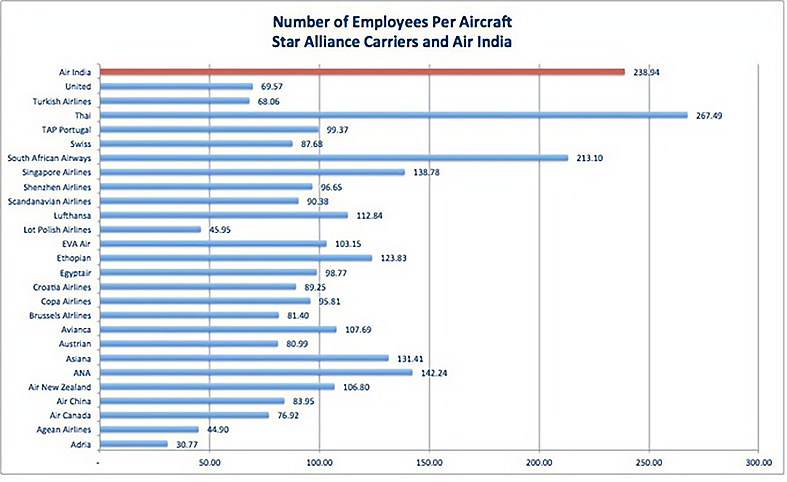 The graph above shows the number of employees per aircraft, with Thai Airways the highest at 267.49 employees per aircraft.
It is also interesting to view Thai Airways performance against other Thai operators: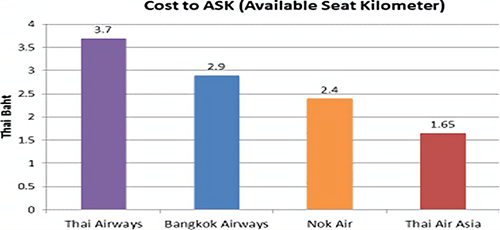 Cost to Available Seat Kilometers expresses the cost to operate each seat kilometer offered, and is determined by dividing operating costs by the Available Seat Kilometer ("ASK"). The graph above shows that Thai Airways is the highest among similar regional airlines.
Poor Public Perception
The perception of Thai Airways within the Thai community is very poor if local Thai-English websites are to be believed.  The need for a national airline may not be as strong to the Thai nationals as the government may believe.
In Part 3 we will conclude with the 2015 UNSW recommendations.